Dear Agony
is the fourth studio album released by the American rock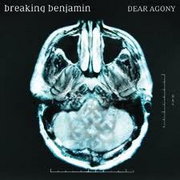 band Breaking Benjamin. Dear Agony was the last album to feature guitarist Aaron Fink and bassist Mark Klepaski. The cover of this album is an MRI scan of frontman Benjamin Burnley's head. Recording started in September 2008 and the album was released on September 29, 2009. Three singles were released from this album: "
I Will Not Bow
", "
Give Me A Sign
", and "
Lights Out
".
Track Listing
Edit
1. Fade Away 3:16
2. I Will Not Bow 3:36
3. Crawl 3:58
4. Give Me A Sign 4:17
5. Hopeless 3:19
6. What Lies Beneath 3:34
7. Anthem of the Angels 4:02
8. Lights Out 3:33
9. Dear Agony 4:18
10. Into the Nothing 3:43
11. Without You 4:16
Ad blocker interference detected!
Wikia is a free-to-use site that makes money from advertising. We have a modified experience for viewers using ad blockers

Wikia is not accessible if you've made further modifications. Remove the custom ad blocker rule(s) and the page will load as expected.