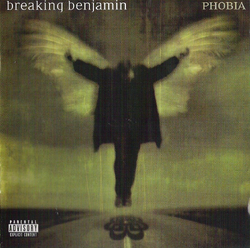 Phobia
is the third studio album from the American rock band
Breaking Benjamin
. It was released on August 8, 2006 through Hollywood Records. Phobia was produced by David Bendeth, who produced the previous album,
We Are Not Alone
, and who would produce the next album,
Dear Agony
. Phobia had 3 singles: "
The Diary of Jane
", "
Breath
", and "
Until the End
". "The Diary of Jane" was used in NASCAR '07 and was a hidden track on a rollercoaster in Universal Studios Orlando.
Track listing
Edit
1. Intro 1:13
2. The Diary of Jane 3:20
3. Breath 3:38
4. You 3:22
5. Evil Angel 3:42
6. Until the End 4:13
7. Dance with the Devil 3:47
8. Topless 3:03
9. Here We Are 4:19
10. Unknown Soldier 3:46
11. Had Enough 3:50
12. You Fight Me 3:13
13. Outro 2:10